Industry Conferences & Activities
Industry conferences and events are an essential part of growing our industry, making connections to advance our organizations, and ultimately helping to heal, fuel and feed the world.  SCBIO and BIO members are leading the research and development of innovative healthcare, agricultural, industrial and environmental biotechnology products that are transforming our world... meet with and learn from industry peers at these, and other, events and conferences:

Mar. 19       SCBIO 501c3 Board Meeting, 3 - 4:30pm, Abbott, 253 Financial Boulevard, Liberty SC 

Mar. 20     SCBIO Charleston Meet-Up, 5 - 7pm, The Hotel Bennett Rooftop, 404 King St., Charleston  

Mar. 29     Med Device Reimbursement:  Getting Paid for Your Technology, 9am - 3pm, Southeast  


                   Institute of Manufacturing & Technology (SiMT), Florence, SC ; conducted by 
                   Reimbursement Strategies LLC; get details and register here or call 214.926.6916.
Mar. 29      Human Genetics Symposium, 5:30 - 8:30pm, Bob Jones University, Davis Room,  


                    1700 Wade Hampton Blvd., Greenville, SC  - presented in collaboration with the
                    Greenwood Genetics Center -- click for details and to register
Apr. 2         SCBIO Board of Directors Meeting, 3 - 4:30pm, Parker Poe Law Firm Board Room,  


                    1221 Main Street, 11th Floor, Columbia SC

                   SCBIO South Carolina Legislative Reception, 5pm- 7pm, presented by Parker Poe Law 


                   Firm & Parker Poe Consulting, 1221 Main Street, 11th Floor, Columbia SC

Apr. 3-4      BIO Legislative Day Fly-In, Washington, DC 



Apr. 8-10    SEMDA 2019 Annual Conference, Avalon Hotel, Alpharetta GA    


                     Get full details and register here
                    SEMDA PitchRounds 2019, presented by SCBIO as part of SEMDA 2019
                    Get full details and apply to present here
April 26     SCBIO Industry & Innovation Council Forum, details TBA, Columbia, SC 

May 1       Life Sciences Industry Workforce Accelerator Session, powered by Apprenticeship  


                  Carolina and SCBIO, details TBA, Greenville SC
May 6-10  Switzerland-Italy Mission & May 7 Reception, details TBA, Switzerland 


May 16     SCBIO Orangeburg Meet-Up, details TBA, Orangeburg SC  


June 3-6   BIO International Conference, Philadelphia PA 



June 5      South Carolina Delegation Breakfast at BIO, Ritz Carlton Hotel, Philadelphia PA

June 18   SCBIO Greenwood Meet-Up, details TBA, Greenwood SC  


Oct. 29-31  SCBIO 2019 Annual Conference, Hyatt Regency Greenville, 220 N. Main Street,  


                     Greenville SC -- full details and schedule to be announced shortly

Have an industry event you would like added?  Please email info@scbio.org for inclusion.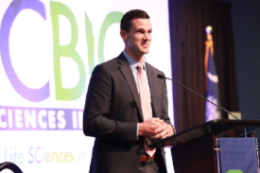 SCBIO 2019 Annual Conference
Is Coming Oct. 29-31, 2019!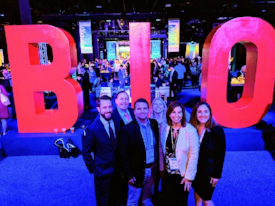 Hundreds of life sciences industry leaders and business executives descended on spectacular Charleston, SC  -- America's favorite travel destination -- October 23-25 for 2-plus days of insight sharing, innovation updates, business networking, and access to top leaders at SCBIO 2018.

Featured speakers  included BIO chief executive Jim Greenwood... Secretary of Commerce Bobby Hitt... research university presidents Dr. David Cole (MUSC) and Dr. Harris Pastides (USC), DePuy Synthes executive I.V. Hall... plus scores of CEOs from numerous leading American life sciences success stories... healthcare and biotech executives, venture capitalists, economic development officials, and hundreds more. 

SCBIO 2018 was the biggest and best conference ever -- and SCBIO 2019 in Greenville, SC promises to be even bigger and better!  Click here for full details as they are announced!